What to expect from your Osteopath
On arrival you will be given an information sheet which will give you some information on what to expect from your visit. Your osteopath will see you in a separate room to maintain privacy. If you would like a chaperone, you may bring one with you. Alternatively we can provide you with a chaperone if you wish. Should a suitable chaperone be unavailable then your appointment can be re-scheduled for another time.
Your information will remain confidential. Sometimes osteopaths do feel the need to ask a colleague for a second opinion on a patient. However, they would only share the minimum of information necessary and only with a practitioner with the same standards of confidentiality. We will ask you for details of your General Practitioner but we would not contact them without your permission except in an emergency
A detailed case history will be taken. This will include the history of your current symptoms and a full medical history. It is important that you give your osteopath details of any other medical conditions that you may have, even if you think that they are not related to your presenting symptoms. It is also important that you give details of any current medication. If you have a computer print out of your medication, it may be helpful to bring this with you. You will be asked questions about your lifestyle e.g. leisure activities and exercise and also about other aspects of your life which may be contributing to your symptoms e.g. whether you have recently changed jobs or moved house or whether you are acting as a carer for an infirm relative. You may also be asked questions about your diet.
Your osteopath will take the time to listen to you and to ask further questions, so please give as much information as you think relevant. If you have any particular concerns regarding osteopathic examination and treatment, please tell the osteopath.
Once the case history has been taken, your osteopath will examine you. You will be asked to undress so that the relevant symptom area is accessible. This may be down to your underwear. You may wear shorts if you wish or gowns are available. If you are unhappy about undressing, please tell your osteopath.
Your osteopath will assess your posture, usually with you standing, and you will be asked to perform certain movements to assess joint mobility and function. There will then be a hands-on physical examination which may include other areas of your musculo-skeletal system besides the symptom area. This is because the body works as a unit, and mechanical problems in one area can pre-dispose symptoms in another. Also sometimes people experience "referred pain" where the problem is in one area and the pain is felt in another seemingly unrelated area e.g. osteoarthritis of the hip can present as knee pain.
Your osteopath will then discuss the diagnosis and the proposed treatment plan, if appropriate. The first treatment is usually given on the first visit unless further investigations are required or unless a complex case requires more examination time.
Osteopathy is a manual treatment involving precise movements of the spine and other joints and massage of the soft tissues in order to help to restore the function and mobility of the musculo-skeletal system. We treat the patient not the condition so two patients with a similar diagnosis may require quite different treatment approaches.
Treatment methods that may be used include:
Massage or stretching of the soft tissues
Passive joint movements: joint articulation
Manipulation i.e. joint release techniques. This may produce a "clicking noise" similar to that produced when cracking the knuckles.
Cranial osteopathy: a very gentle treatment suitable for all ages.
You will be asked to sign a consent form before the treatment starts. However, consent giving is a continuous process and consent may be withdrawn at any time. If you are not happy with the treatment please tell your osteopath at once and they will stop the treatment and discuss it with you. Your osteopath will talk you through the treatment as it occurs but if you have any questions please ask.
If your osteopath feels that osteopathic treatment is not suitable for your condition, they will explain why and may advise you to consult your GP or another type of practitioner if appropriate.
Afterwards some people do experience a temporary reaction to treatment which may include an initial worsening of the symptoms and/ or a generalized soreness or aching in the treatment area. This usually eases in 24-48 hours and may be helped by applying cold to the affected area as recommended by your practitioner. If you have any concerns following treatment please contact your osteopath.
As we treat the patient not the condition, and as people react to treatment at different rates, the number of treatments needed varies between patients. Your osteopath will discuss this with you.
We may recommend lifestyle changes if appropriate e.g. altering seating posture or avoiding certain movements. We may also recommend exercises.
Osteopathy is not a "quick fix" although some patients feel some immediate relief. More than one treatment may be necessary particularly if the condition has been present for a while and may also be needed to prevent further recurrences. Your osteopath will discuss this with you.
Osteopathy is not a "cure" For some patients a cure is not possible but it can be possible to improve the quality of their life by improving their mobility and reducing their pain and giving by them advice to enable them to maintain the improvement.

To book an appointment, please ring 0151 648 6870. We are contactable by email, info@wirral-osteopaths.com, but please do include a phone number if you wish to make an appointment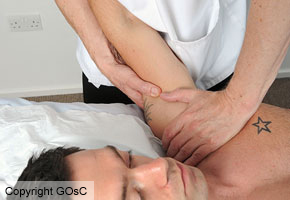 Conditions treated
Contact Us
We welcome e mail enquiries but we regret that we are not able to make appointments via the internet, only over the phone, so please include your phone number in any e mails.
How to Find Us
Thingwall Osteopathy, 1A Penrhyn Avenue, Thingwall, Wirral, Merseyside CH61
By Bus: The 472 Liverpool to Heswall bus stops nearby on Pensby Road