FAQs
Is Osteopathy Safe?
The medical profession considers that one moderate to major adverse event in 10,000 treatments is safe. Recent research has found one moderate to major adverse event in 36,000 osteopathic treatments.
When considering the type of treatment suitable for each patient the medical history is taken into consideration. For instance gentler treatments would be used if osteoporosis has been diagnosed or if it is likely to be present.
Osteopathic manipulation of the neck (the technique that produces the clicking noise) carries a very small risk of stroke but this is believed to be equivalent to the risk associated with having hair washed in a backwasher. If a patient is elderly or has a history of stroke then this technique would not be used.
If you would prefer not to have a certain type of treatment, please let your osteopath know.

To book an appointment, please ring 0151 648 6870. We are contactable by email, info@wirral-osteopaths.com, but please do include a phone number if you wish to make an appointment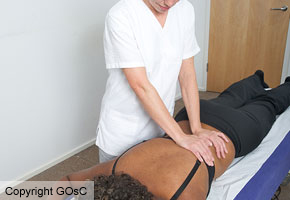 Conditions treated
Contact Us
We welcome e mail enquiries but we regret that we are not able to make appointments via the internet, only over the phone, so please include your phone number in any e mails.
How to Find Us
Thingwall Osteopathy, 1A Penrhyn Avenue, Thingwall, Wirral, Merseyside CH61
By Bus: The 472 Liverpool to Heswall bus stops nearby on Pensby Road