Contact Us
You can contact us as follows:
Phone: 0151 648 6870
Email: info@wirral-osteopaths.com
We can only book appointments by phone at the moment. We are very sorry but we cannot book appointments via email.
However, if you would like to email us your telephone number with your enquiry, then we would be happy to ring you.
Follow us on Facebook
Find us
Thingwall Osteopathy, 1A Penrhyn Avenue, Thingwall, Wirral, Merseyside CH61 7UP
By Bus: The 472 Liverpool to Heswall bus stops nearby on Pensby Road
To book an appointment or for more information please call 0151 648 6870
Complaints Procedure
If you have a complaint or concern about the level of care you have received from an osteopath or any other member of staff, please discuss your worries with the person concerned. If it is not resolved to your satisfaction, rest assured that we shall:
Treat your complaint seriously.
Work to resolve your complaint promptly and in confidence
Learn lessons and use them to review and where appropriate improve our service
Make your complaint to the Practice Principal Margaret Lavender either in person by phone or in an email to margaretjlavender@gmail.com or by letter
If you telephone us or speak to us in person, the complaint will be logged and whoever takes your call will attempt to resolve the issue for you. Most issues can be resolved by talking through and obtaining an understanding of the circumstances which led to the problem.
If you are not satisfied, we will tell you when it is likely that the Practice Principal will be free to ring you to discuss the matter or invite you to come to the practice to do so.
We will investigate your complaint during the following few days and will aim to:
Find out what happened and what went wrong.
Make sure you receive an explanation and an apology, if this is appropriate.
Deal with your complaint and reach an amicable solution.
Identify what we can do as a practice to ensure that this problem does not arise again.
If we are not able to resolve your complaint to your satisfaction within the Practice then there are other organizations that may be able to help you.
BRITISH OSTEOPATHIC ASSOCIATION COMPLAINTS RESOLUTION SERVICE
You can talk to an independent source by ringing the British Osteopathic Association on Freephone 0800 110 5857 or email boa@osteopathy.org
Or
The GENERAL OSTEOPATHIC COUNCIL
If you are concerned about safety and wish to instigate a formal complaint with the regulatory body, the General Osteopathic Council can be contacted on 0207 357 6655
Please note that the General Osteopathic Council cannot award compensation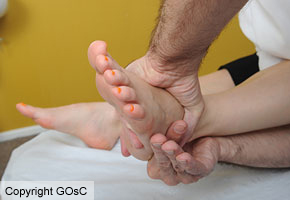 Conditions treated
Contact Us
We welcome e mail enquiries but we regret that we are not able to make appointments via the internet, only over the phone, so please include your phone number in any e mails.
How to Find Us
Thingwall Osteopathy, 1A Penrhyn Avenue, Thingwall, Wirral, Merseyside CH61
By Bus: The 472 Liverpool to Heswall bus stops nearby on Pensby Road