Massage & Reflexology
Our Practitioner Kath makes her own appointments
For Advice or an Appointment please ring 07941 330 963
Kath Murphy-Complementary Therapist
I.I.H.T/M.I.C.H.T
The Natural Way to Better Health
Relaxation Balance and Harmony
A Truly Holistic Experience
Kath Murphy was introduced to Massage Therapy after a GP recommended it for her painful back problem some years ago and she soon became aware of an improvement in her condition.
As a result of this she decided to train as both a Massage Therapist and an Aromatherapist and she subsequently trained in other therapies, including Reflexology. She is an experienced therapist with a good knowledge of various health conditions. She says that patients are helped by Complementary Therapies on both physical and emotional levels and she trusts completely in their therapeutic effects on stress and related conditions.
As well as working in private practice, Kath has worked for the NHS and currently also works for Wirral Holistic Centre.
Aromatherapy
Aromatherapy consists of massage using pure essential oils. The oils used depend upon the individual client's needs. Aromatherapy stimulates the body's own immune system and helps to increase blood flow, and therefore the flow of oxygen and nutrients, to the tissues, thereby easing muscular aches and pains.It is also an excellent preventative treatment.
Treatment Fees
One hour £30
Half hour £20
Indian Head Massage
Indian Head Massage is part of Ayurveda, one of the world's oldest holistic medical traditions, and is recognised in the West for it's relaxing therapeutic effects. A treatment works on the face, neck, shoulders and upper arms, but although it focuses on the head, which is the centre of the body's central nervous system, it can be said to treat the whole body. A treatment can be relaxing and reviving.
Reflexology
Reflexology is a therapeutic method which began in ancient Egypt. Modern reflexology has its basis in a theory developed in 1913 by Dr Fitzgerald and further developed in the 1930's by Eunice Inglam. Inglam made the observation that reflexes in the hands and feet correspond to all parts of the body including all the major organs and glands. Therefore, treatment of the whole foot or hand by reflexology can improve the health of, and restore balance to, the body as a whole. This occurs through the reduced stress levels and deep relaxation which results. Whilst reflexology does not provide a diagnosis, or make claims to cure, it encourages the body's self-healing mechanisms and can also act as a preventative.
Swedish Massage
Ligament problems, tendon problems, muscular tension and other specific physical symptoms are ideal for treatment with Swedish Massage. It is important to loosen and warm muscles when preparing for exercise and also to relax them afterwards and Swedish Massage can be useful for both these things. As well as relaxing aching, tired muscles and enhancing skin tone, it encourages blood flow and lymphatic drainage leaving you feeling rejuvenated and refreshed. In addition to easing physical symptoms, Swedish Massage can relieve mental and emotional stress.
One hour £25
Half hour £20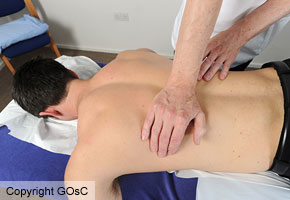 Conditions treated
Contact Us
We welcome e mail enquiries but we regret that we are not able to make appointments via the internet, only over the phone, so please include your phone number in any e mails.
How to Find Us
Thingwall Osteopathy, 1A Penrhyn Avenue, Thingwall, Wirral, Merseyside CH61
By Bus: The 472 Liverpool to Heswall bus stops nearby on Pensby Road