Covid 19 Information
ESSENTIAL INFORMATION FOR BEFORE AND WHEN YOU ARRIVE
We are having to do things differently to keep everybody safe but our service will be the same.
We have to pre-screen everyone for the symptoms of Covid 19 before they come for every appointment. This will be over the phone at the time of booking and also just before you are due to attend, depending on how far ahead the booking was made. Please bear with us, this is for everyone's safety. (See Questions for Pre-Screening).
If you, or anyone in your household, has symptoms which are known to be, or may be, Covid 19, you must not enter the building.
We are having to leave a minimum of a half hour gap between each patient to allow for essential cleaning. However members of the same household can have consecutive appointments.
Please bring your own face covering if you can but we will provide one if you can't. We can't treat you without one I'm afraid.
We are not being unfriendly but please do not enter Reception unless you have to.
Please stay in your vehicle until called in but let us know that you have arrived, by phone or through the Reception window, if we haven't already seen you. If you are unable to wait outside, we will let you into Reception but unfortunately only one at a time.
You may bring a chaperone into the Treatment Room with you, if essential, but we are asking people to come into the Practice alone if at all possible. Chaperones will also have to be masked and pre-screened for Covid 19, so it would really help us if you could let us know beforehand that someone will be accompanying you. Unfortunately, anyone accompanying patients will not be allowed to wait in Reception.
Please don't arrive more than 10 minutes early, or arrive late, as this could cause problems with social distancing and the cleaning regime.
When invited in, you will go straight into the treatment room. Patients for the downstairs room will enter and leave through the fire exit to the left of the building and those for the upstairs treatment room will enter and leave through the front door.
Please use the hand sanitizer before entering the building and put on your own face covering if you have one. Alternatively please put on one of our face masks as soon as you enter.
We know the practice is small but we are doing all we can to limit contact between people within the building and would ask that everyone practises social distancing as much as possible both inside and outside.
We may take payments over the phone in advance. We would prefer not to take cash but, if you cannot pay any other way, please put the exact amount in an envelope. Unfortunately, we cannot give change
Further appointments may be made over the phone or through the front window if necessary.
Please be assured that you will be allowed to use the toilets but we would really appreciate it if you could use your own facilities before you come. It will really save on the cleaning.
We reserve the right to refuse you treatment if you appear to be unwell.
QUESTIONS FOR PRE-SCREENING: QUICK CHECKLIST
While the current Covid 19 situation continues we will need to ask you the following questions before every appointment, please bear with us
Question 1: Do you feel well today? Do you or anyone else in your household have any Covid 19 Symptoms e.g. persistent cough, high temperature or loss of taste and smell?
If you or your household have symptoms then unfortunately you cannot attend
Question 2: Have you been in contact with anyone with confirmed or suspected Covid 19 in the past two weeks?
If yes, you cannot attend
Question 3: Have you been advised to shield or are you considered to be part of an "at risk" group (cancer, severe respiratory disease or immune-suppressed)?
If yes ,you probably cannot attend but a phone call can be arranged with a Practitioner to Risk Assess
Question 4: Are you currently living with someone advised to shield?
If yes, you will be advised of the risks of attending
Question 5: We are taking every precaution but are you aware that, even so, there is a risk in coming into the Practice just as there is in entering any building where there are other people.
Are you happy to attend?
Hygiene: What we are doing to keep us all safe
All staff will wear masks when in contact with patients.
The osteopaths will wear a clean apron over their clothing for each patient.
The osteopaths will either wear gloves or wash their hands and forearms thoroughly with soap and water immediately before and after treating each patient.
The treatment room will be thoroughly cleaned before and after each patient, including treatment table, pillows, all hard surfaces and door handles.
The washroom facilities will be cleaned after each use
Reception and entrances, including the doorbell, will be cleaned after each patient has used them.
To book an appointment or for more information please call 0151 648 6870 or email info@wirral-osteopaths.com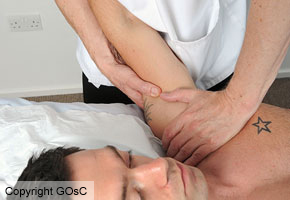 Conditions treated
Contact Us
We welcome e mail enquiries but we regret that we are not able to make appointments via the internet, only over the phone, so please include your phone number in any e mails.
How to Find Us
Thingwall Osteopathy, 1A Penrhyn Avenue, Thingwall, Wirral, Merseyside CH61
By Bus: The 472 Liverpool to Heswall bus stops nearby on Pensby Road