Osteopathy in the Wirral
Welcome to Thingwall Osteopathy
This Osteopathic Practice was originally established in Irby in 1983 by Margaret Lavender.
We moved to Thingwall in 2000 and have three osteopaths: Margaret Lavender, Diane Henderson and Christina Parsons.
We provide:
Structural Osteopathy
Cranial Osteopathy (Margaret Lavender and Christina Parsons only)
We treat all ages-adults and children
We treat:
If you would like more information on the above, please see the 'what do we treat?' page or contact us by phone or e mail.
Osteopathic Opening Times:
Monday: 8.30 am to 6pm
Tuesday: 8:30am to 1pm
Wednesday: 8.30 to 6pm
Thursday: 9am to 8pm
Friday: 8.30am to 11.30 am
Saturday: 9am to 1pm
Treatments are by appointment only. These Opening Times may vary. If you ring during opening times and get through to our ansaphone, please do leave us a message with your name and contact telephone number and we will get back to you.
Disabled Access.
Parking Available
From September 5th the fees will be as follows;
Fees for Osteopathy:
Initial Consultation and Treatment: £48.00
Follow Up Appointments: £36.00
For Children:
Initial Consultation and Treatment: £35.00
Follow-Up Appointments: £30.00
You do not need a GP referral to see an osteopath but we may recommend that you consult your GP, if necessary.
In some areas Osteopathy is available on the NHS-check with your GP

To book an appointment or for more information please call 0151 648 6870 or email info@wirral-osteopaths.com
Also at the premises Kath Murphy-Massage, Aromatherapy and Reflexology. For information on treatment, appointments and prices please contact Kath directly on 07941 330963 or see our section on Massage and Reflexology.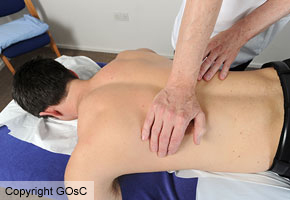 Contact Us
0151 648 6870
We welcome e mail enquiries but we regret that we are not able to make appointments via the internet, only over the phone, so please include your phone number in any e mails.
How to Find Us
Thingwall Osteopathy, 1A Penrhyn Avenue, Thingwall, Wirral, Merseyside CH61
By Bus: The 472 Liverpool to Heswall bus stops nearby on Pensby Road
Therapy Room
Available to rent on Wednesdays.
If interested, please ring 07775533543 to speak to Margaret.